Kathy Kageni, is in the spotlight for a Facebook post she sent.
Kathy refered to the sacked employees as fools, a thing that didn't go well with Kenyans online
With the current developments being that Radio Africa Group is currently having a massive shake-up that will see the media company lay off dozen of employees. Emotions in the company have been flying high and Radio Africa Group Human Resources manager Kathy Kageni-Oganga seems to have been caught in the mix-up after she sent a post on Facebook referring to the sacked employees as fools.
"Anyone who believes that their bosses did not know they were being fired is a fool!" she said.
Lately, Radio Africa Group has been making headlines because of the lay-off.
According to reports, more than half of business executives in the marketing department were sent packing on the first day of the restructuring process as the company aims to cut its operational cost.
Another rumor suggests that the company plans to shut down its newspaper, The Star, which will see about 200 more people jobless.
Uncertainty has gripped the staffers at Lion Place, Westlands, where Radio Africa is based, as they await for retrenchment letters and it seems Kageni isn't helping much.
"No boss ever fires people without their boss' consent," she added.
And any boss who pretends not to know their staff was being fired has no business being a boss; you must have risen on hot air and that never lasts."
Here is the post: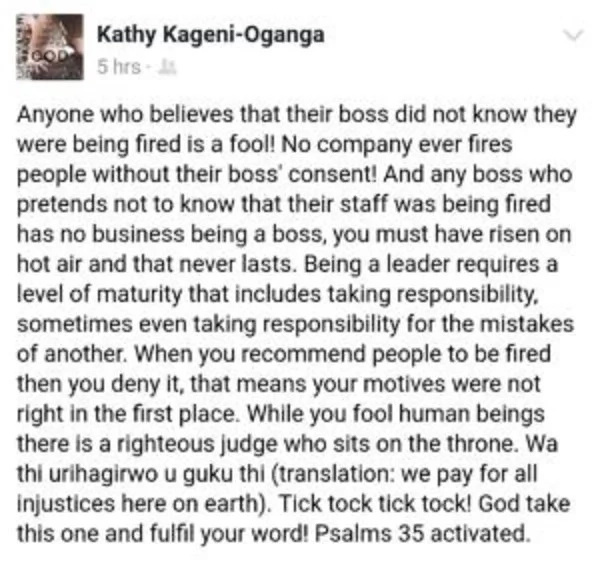 She was later forced to pull down the post.
The post evoked a lot of reactions online but neither Kageni nor Radio Africa has addressed it so far.
credits: tuko.co.ke