Former U.S. President, Barack Obama, and his wife Michelle, have continuously express a deep love through out all their years as a married couple, and this year the power couple took the media by a storm when they exchanged sweet Valentine's Day posts on their personal Twitter accounts.
Despite thier endless list of activities in their calender's, such as engagements to speak at conferences, and the writing of new books, this couple remains a model of relationships as nothing has not stopped this adoring couple from making a point to maintain a close and loving relationship.
Barack's tweet simply said "Almost 28 years with you, but it always feels new." Short and emotional.

On the other hand, Michelle presented her tribute, which read "the love of my life and favorite island mate", accompanied by a selfie pic of the couple's bare feet on the sand. It was probably taken on the short vacation they had just after exiting the White House, on Richard Branson's private island in the British Virgin Islands.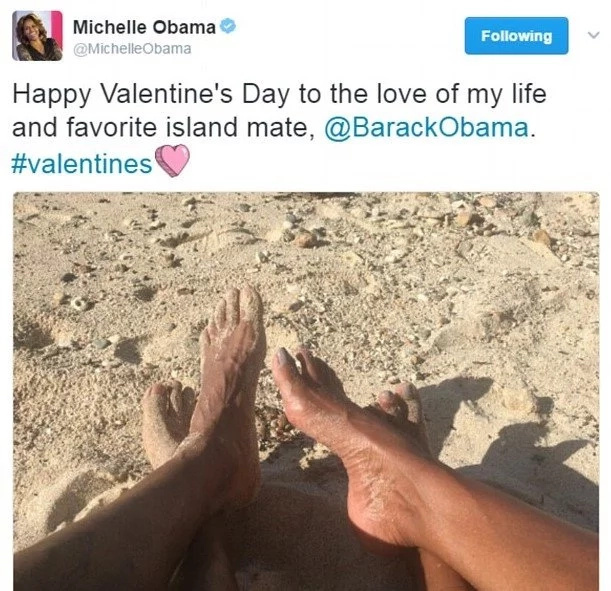 The power couple will stay in Washington DC until their younger daughter, Sasha, ends her high school next year. Their older daughter, Malia, will start her freshman year at Harvard University in the fall. Meanwhile, she is doing an internship with movie producer Harvey Weinstein.
Barack and Michelle Obama enthralled the whole world with their great love story, which continued to stay strong throughout their eight year at the White House.
For practically every Valentine's Day, each one had a special act, gift or note for their respective other.
Last years gesture of the former U.S president Barack Obama, was one of the most touching and charming gestures of all time.
Here is the video: